Mallory Goudy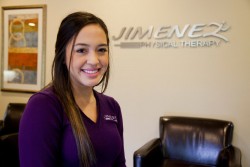 I'm currently a college student seeking a degree in either Physical Therapy or Nursing. I've discovered my passion in helping others within the medical profession. My past personal experience as a patient of Physical Therapy stimulated my interest in the profession. My work experience at Jimenez Physical Therapy has furthered my interest.
In my personal time, I enjoy travel, reading, and being outdoors fishing with my dad. Some consider me a "tom boy" or the son my dad never had.
Last Updated Monday, January 24, 2022 - 11:04 PM.