Nick Garcia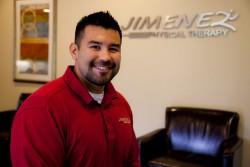 I graduated with my Interdisciplinary Health & Rehabilitation Science degree from CSU, Fresno in 2010. I've been employed as a Physical Therapy Aide at Jimenez Physical Therapy since 2008. My work with patients as an Aide has convinced me of my passion and dedication to move forward with my career in Physical Therapy.
I am married to my beautiful wife of 2 years. I have 3 dogs that are my "children", for now. I enjoy training for MMA and spending time with my wife & family.
Last Updated Tuesday, January 25, 2022 - 02:32 AM.